Teranga, the Village of the World
The integration area
As part of the Festival of 5 Continents, the Teranga space highlights the participation of all the foreign communities of the town, making the event a pillar of living well together in the Valais. Remember that the foreign population of the city of Martigny represents 35% of the inhabitants, bringing together 110 different nationalities.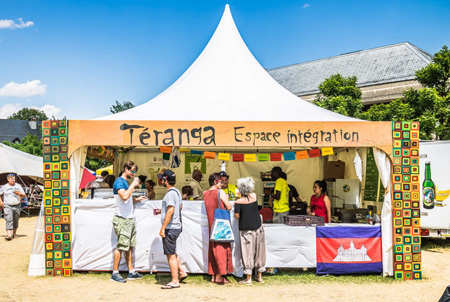 In 2018, the Teranga area highlighted the activities of the communities and associations of Martigny and the know-how of: Portugal, Italy, Kosovo, Cape Verde, Algeria, Poland, China, Sri Lanka, Eritrea, Mongolia, Guinea-Bissau, Syria.
Emphasis on «elsewhere in the world» by:
- tastings at the Village du Monde - a culinary trip around the world;
- cocktails from Latin America: Mexico, Peru, Panama, Brazil, Colombia and Argentina;
- dances of the cultures around the world.
As Mahamadou Sognane, delegate for the integration of the city of Martigny and member of the organization committee of the Festival of 5 Continents, reminds us: «Teranga is a place of crossroads of cultures, of citizenship, of solidarity and of conviviality. A space dedicated to the reception and information of newcomers in the Valais, as well as a place of exchange and meetings between the many associations and volunteers who support integration activities throughout the year. The Festival of 5 Continents is an event to discover the diversity in all its expressions - culinary, joyful or artistic - and share together emotions, laughter, discoveries, admirations, talents... Finally, it encourages the participation of the citizens and the contribution of everyone to live well together.»